The first photography taken in Finland depicts the Nobel House in Turku, and was taken by doctor Henrik Cajander on the 3rd of November 1842. That photography was a so called "daguerreotype", an early form of photograph that is made on a thin silver plate. Daguerreotypes were massively popular during the first half of the 1800s, since the patent was free-to-use, even as new types of photographs were invented. They were generally very small and fragile, and are always kept in cases, for example glass ones.
Many other types of photographs were also taken – i.a. ambrotypes, tintypes, aristotypes, collotypes – but all of these, including the daguerreotypes, required the photographer to have their own darkroom and know the ins and outs of all the chemical solutions involved in the development process. This period of photographic history has therefore sometimes been called the "apothecary period". Before the 1870's, when the so called "dry plates" were invented, one would have to develop pictures immediately after taking them due to the nature of the 1850's "wet plates" that were useless once they dried. These circumstances explain why photography were mainly done by professional photographers in special studios and not in everyday private households.
Even though new inventions and breakthroughs furthered the use and spread of photography, it was rare and somewhat exotic in Finland during the 1800s. A few photographers, who often learned their profession abroad, were active in cities and towns, and the photos were most often taken in special studios. Some also made their living traveling the countryside, taking pictures of homesteads and other homes for a fee. These photographers were successors to painters who'd previously filled the same demand, and predecessors to the aerial photographers that launched their businesses after the world wars.
Between 1842 and 1920, there were fewer than 200 photo studios in Finland. They were often in contact with each other, and often cooperated in regard to employment or training. This was possible mainly because the demand for photography was higher than the supply of photography services, but furthermore spaces suitable for photography studios were far and few between for much of the 1800s. The popularity of photography increased throughout the century however, since the cities and towns grew, and more people were able to afford having their photos taken. Photography had soon become a good middle-class option to the expensive painted portraits of the past.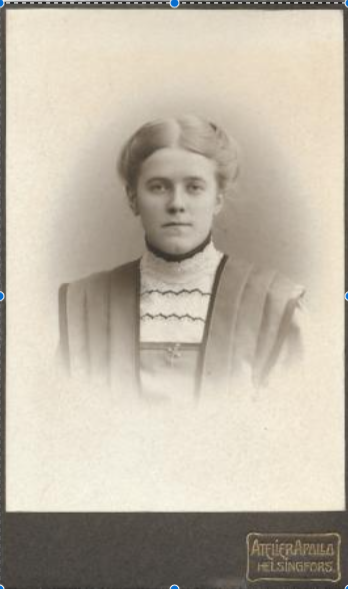 Märta Bergbom (1887–1964) was regularly photographed. For years, her parnets took her to Charles Riis' studio, but at some point they switched to Atelier Apollo. This might have happened after Riis' studio was bought by the owner of Apollo, and Riis' business was moved to the Apollo locale in 1898. Photo: Atelier Apollo 1908. SOV.
In the archives of Hertonäs Manor Museum there are many photographs stamped with famous names of photographers from 19th and 20th century Helsinki. The pictures of Märta Bergbom, and many other pictures, were taken at Danish photographer Charles Riis' studio. Other ateliers employed by the Bergbom family includes Atelier Apollo, owned and operated by the businessman and entrepreneur K.E. Ståhlberg, and the Norweigan Daniel Nyblin's studio.
Among the survivng photographs in the collections at Hertonäs manor are several so called "carte de visites" and cabinet cards, both very popular and common types of photos in the 1800s. Cartes de visites were often of a smaller size, and wasn't solely intended for decor or to be put in picture frames - the photos were given away to friends and family, and the name "cartes de visites" acknowledges this as the pictures were gifted just as today's business cards. Herttoniemi manor museum features an entire album of these types of photographs.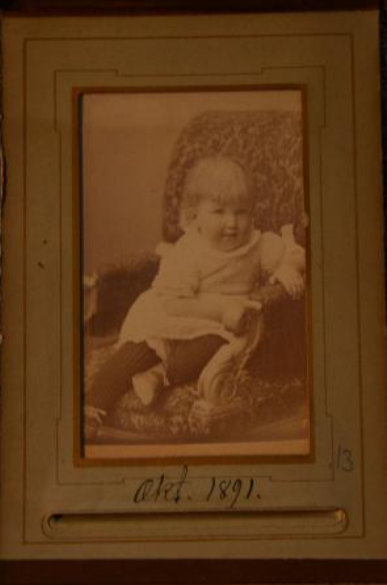 Ragnar Bergbom photographed in 1891. The picture is stored in an album with photos displayed at Hertonäs Manor Museum. SOV.
The popularity of the cartes de visite was at its height in the middle of the 1800s, and were then mostly succeeded by the cabinet cards. Some examples of cabinet cards can be found above; they were somewhat bigger than the cartes de visites and often featured a printed, beautiful logo, design, and/or the name of the atelier or photographer.
After the American Eastman Kodak Company started to mass produce cameras, photography became a hobby for the masses, and it made it possible for museums today to have a multitude of photographs in their collections. For those who are interested in comparing and studying how the art of photography has changed and developed during the 19th, 20th, and 21st centuries, the picture archives of Hertonäs manor includes photographs from all eras!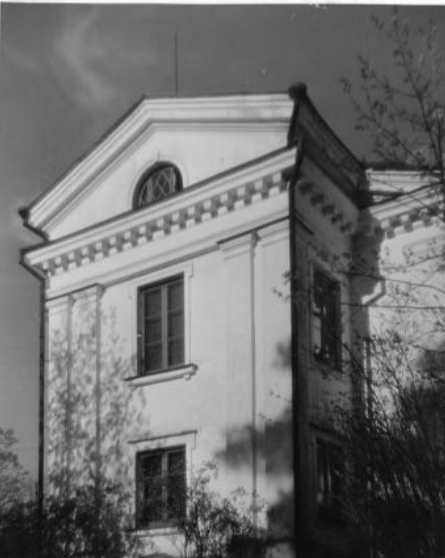 Hertonäs manor's main building, probably in the 1920s. SOV.
More about photography in:
K.E. Ståhlberg (Sabira Ståhlberg 2013).
Amatörfotografklubben i Helsingfors hemsida.
Källan 2013:2, utgivet av och finns att läsa på Svenska Litteratursällskapets hemsida.
Atelier Nyblins hemsida.
"Fotografiska material", Moderna museet.
"Daniel Nyblin" i Finlands nationalbiografi.
"Karl Emil Ståhlberg" i Finlands nationalbiografi.
Finlands fotografiska museum.
"How to spot a carte de visite", The National Science and Media Museum.
"How to spot a cabinet card", The National Science and Media Museum.