During these weeks we interns have been confronted with a number of conundrums and problems we've had to solve – how and with what should we digitize, in what order, how should the work be divided between us, with how much caution and with what conservation concerns in mind should we approach our work? After attending a seminar on conservation held by Helsinki City Museum during our second week at work our concerns were reignited – will the light from the scanner damage the photographs, and should I stop keeping my water bottle with me at my desk? Balancing a full coffee cup as I walk through the museum, as I've done a number of times, definitely started to seem like a bad idea moving forward.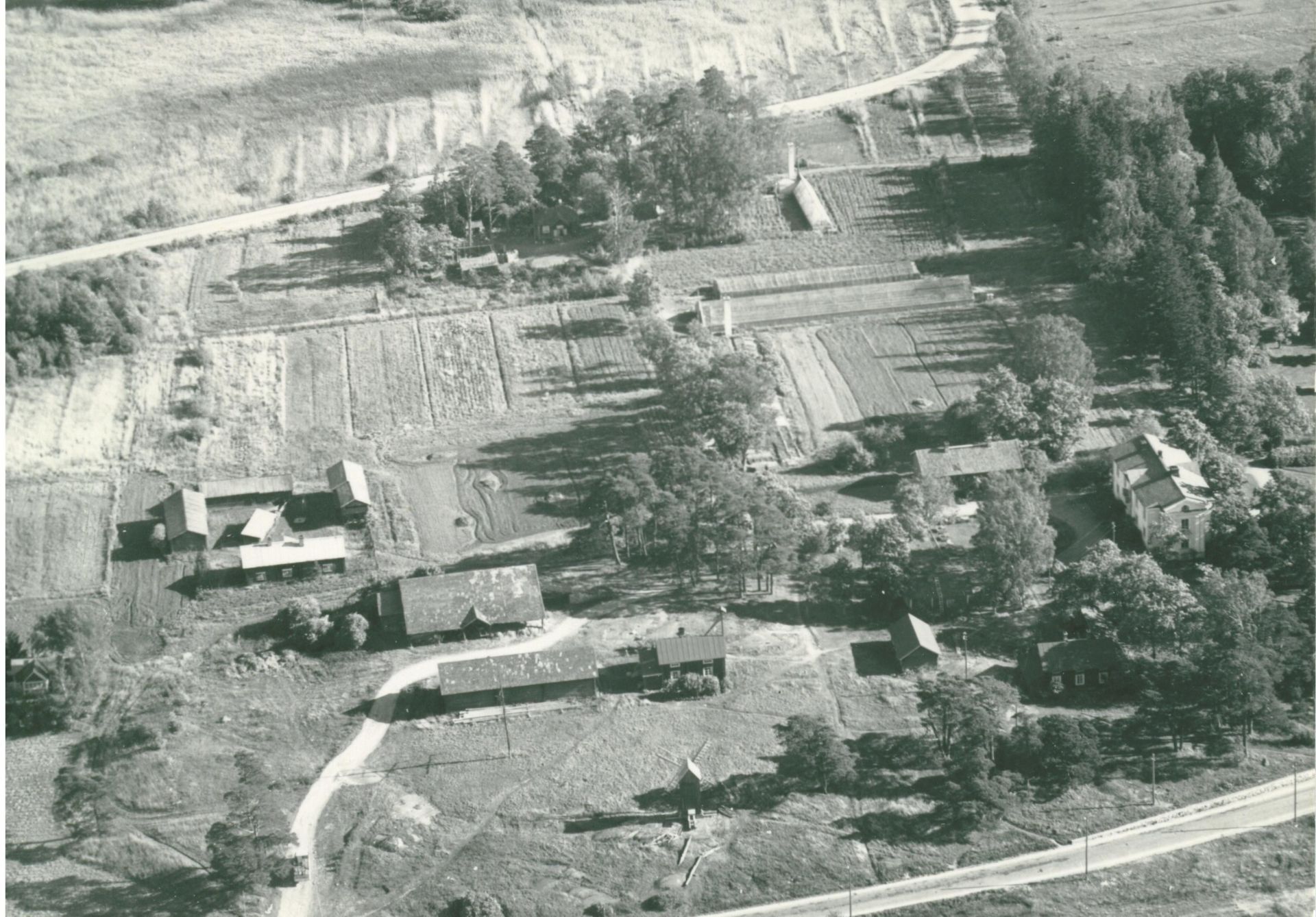 Aerial view of the manor, 1950. Even though people have been living in the Herttoniemi region for hundreds of years, the difference between then and now is striking - less than a hundred years later, the manor is surrounded by asphalt and high-rise buidlings. Herttoniemi had at the time of this photo already become part of the Helsinki area, and plans for building great 50's suburbs here were already in the works. Picture: SOV (from Herttoniemi manor museum's picture archives, collection no 113).
Over the course of the summer, we'll move on from digitizing the photographs to taking our own pictures of the museum's items and looking through the collections of objects sitting in storage. Our hopes are, that after we defeat the picture archives we'll still have time during the summer to start uploading images, descriptions and research regarding the museum items as well as making the museum's catalogue of objects accessible online. Ideally, one should the be able to look through the collections without even having to step foot in the museum (although, everyone is welcome to visit, of course!), and the items can remain undisturbed and protected in a cool and dark room, which'll keep them in good condition for many years to come.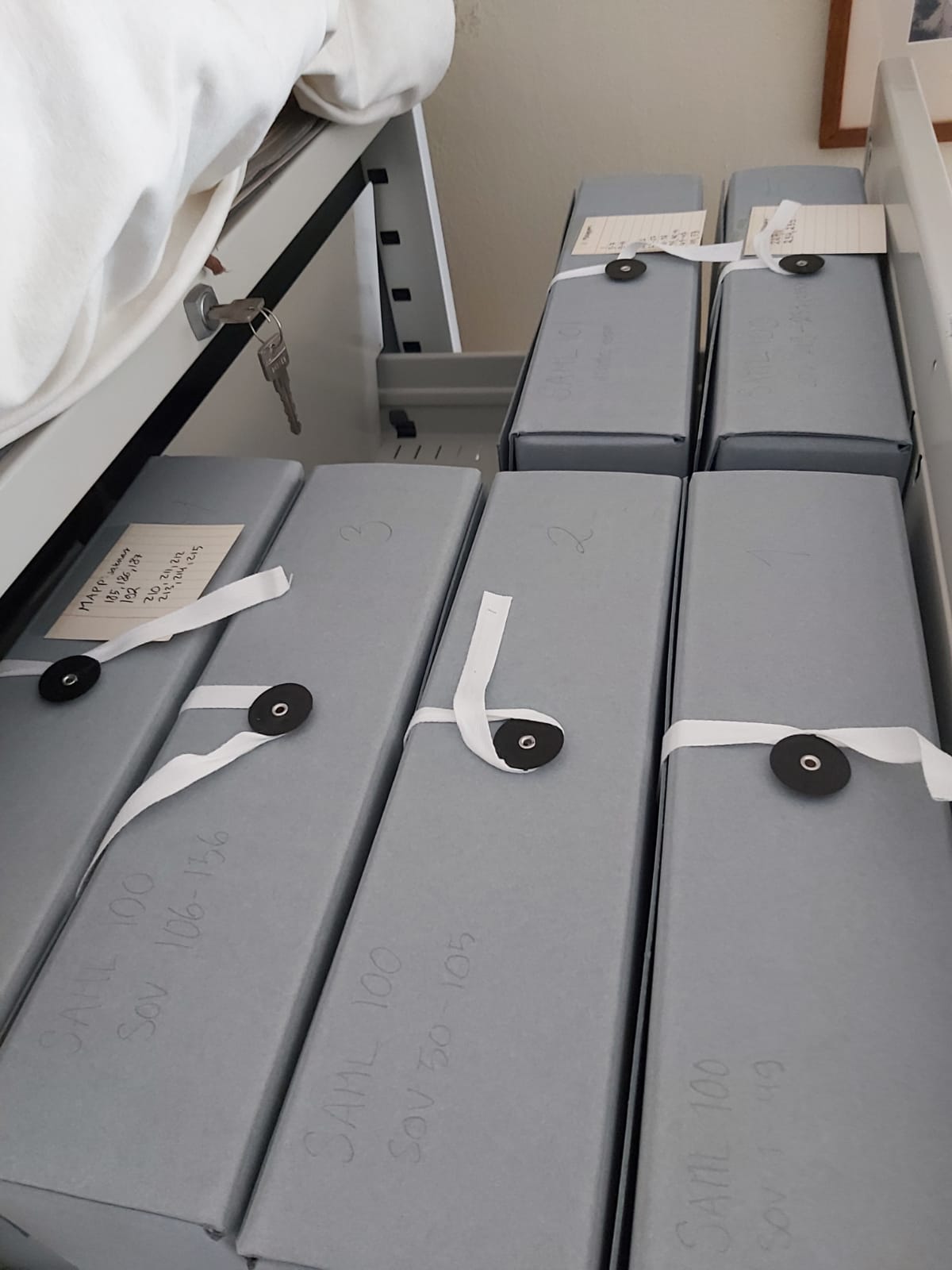 Some of the picture collections have already received new folders and have been digitized. Now, about 100 more are awaiting the same treatment…. (Picture of Herttoniemi manor museum's picture collections, box 1). Picture: IK 2021.
The goal of conservation is just that – to preserve our physical cultural heritage for as long as we can. Digitizing the collections of the museum doesn't only do that, it also makes the items more accessible to a larger group of people as well as lowering the bar for finding and using the historical materials kept at the manor. If you're looking for, say, pictures of Helsinge during the early 1900's – downloading them from the Desky website (where all of our material is free to use!) is way easier then setting up a meeting with the museum's curator to find, copy, and photograph the material you want for yourself manually. As a student myself, I'm going to go ahead and say that digital photo archives and databases have been a goldmine – thanks to, i.e., SLS, the National Archives of Finland, and the Finnish National Gallery! The material we produced during our museal course this spring would definitely not have been as nice-looking without the pictures we found on those sites. (For more about that project, see the blog posts from 1.6.2021 and 30.5.2021 on the museum's blog).
Right now, we have no idea what additional challenges we'll face during the course of our internship. I really look forward to learning more about conservation and taking care of museum items this summer – the next time I write a blog post, I hope I've gotten to stuff many old dresses with wrapping tissues, folded a hundred new photograph folders, and found a lot of cool stuff among the museum's hidden and uncatalogued collections.
Ida Karlgren's historical internship at Hertonäs Manor Museum is financed by the Swedish Cultural Foundation in Finland.